INSTANT BOOKING OPTIONS
Fitzroy Island Flyer Info
The Fitzroy Island Ferry departs Cairns 3 - 5 times per day. The journey is a relaxing 45 minute cruise in the 190 seat air-conditioned catamaran from Cairns to the sheltered waters of Welcome Bay on Fitzroy Island.
Fitzroy Flyer Time Table
Departs Cairns Marina at 8am, 11am, 1:30pm
Departs Fitzroy at 9:30am, 12:15pm, 5pm.
Fitzroy Flyer Return Fares:
Adult $85 (14+ years)
Child $42.50 (4-13 years)
Family $220 (2 Adults + 2 Children)
Infant Free (0-3 years)
Pre-booking is essential. Please do not turn up to the ferry without a booking.
Fitzroy Island Check-in Location
Check-in opens 1 hour prior to departure at the Fitzroy Island Resort Booking Centre Shop 2/1 Spence Street
After you check-in the reservation team will direct you to the vessel on the Marlin Marina.
Boarding closes 15 mins prior to departure.
Marlin Marina Distances
15 Minutes by car from the Cairns airport
Up to 25 minutes walk from Cairns esplanade hotels
Up to 15 minutes walk from Cairns city hotels
30 Minutes' drive from Palm Cove
60 Minutes' drive from Port Douglas
Parking
The Cairns Cruise Liner Terminal Car Park offers all day parking for a cost of $10/day.
The ticket machines take payment via Credit Card or Cash. This car park is just 2 minutes' walk from the Cairns Marlin Marina.
Things to do on Fitzroy Island
Enjoy the abundance of activities available on the Island from the Dive and Adventures Centre including kayaking, snorkelling, glass bottom boat tours and paddle boarding (charges apply).
If you are looking for something more relaxed, simply soak up some sun on the beach and go for a swim in the surf. If you are the adventuring type go for one of the free self-guided walks through the secret garden in the Rainforest or challenge yourself with a walk to the Summit Lighthouse.
The Island also offers fish feeding at 11:30am and 4:00pm daily from the Jetty.
Transfers for Resort Guests
Fitzroy Island Transfers for Resort Guests
Check availability and book return transfers for your stay on Fitzroy Island. Our form shows last seat availability and the total number of seats left on all of the departure times and dates.
Fitzroy Island Resort Check-in & Check-out times
Check-in: 02:00pm. Pool towels and changing facilities are made available for early ferry arrivals.
Check-out: 10:00am. Bag storage and change facilities are available for guests departing on the last ferry.
Fitzroy Island Sports Hub
Explore the beauty of the Great Barrier Reef and enjoy an abundance of water activities available on the island from the newly opened 'Fitzroy Island Sports Hub'. FISH is open from 9:30am to 4:00pm daily and can be accessed via the steps to the left of the swimming pool. Hire services can be booked upon arrival and a credit card imprint, refundable deposit or other form of security deposit is required for all rentals.
Equipment Available for hire
$10 Mask & snorkel | per day
$10 Fins | per day
$10 Floatation | vests per day
$20 Kayaks | per 30 mins
$20 Stand Up Paddle Boards | per 30 mins.
$10 Stinger Suits | per day
Turtle Rehabilitation Centre Talks
Learn about the centre and meet a sea turtle.
Held daily at 1pm, 1:45pm & 2:30pm.
Duration is 30 minutes.
$12 | Adult
$7.50 | Child (4-14 years)
Sunday Junior Marine Biologist Program
Includes hands-on activities, a packed lunch and certificate.
Held every Sunday from 9am to 12pm.
Guided Snorkel Tours
Held on Tuesday, Thursday & Saturday's at 10am.
Duration is 1 hour.
Includes mask, snorkel & fin hire.
Stand Up Paddle Board Tours
Held Thursday, Friday, Saturday & Sundays at 10:30am, 12:00pm & 1:30pm.
Duration is 1.5 hours.
$60 | Adult
$40 | Child (8-14years)
Glass Bottom Boat Tours
Held daily at 10am, 11:30am, 1:30pm and 3pm.
Duration is 1 hour.
Guest Reviews
I would use this company again
Posted By Jennifer Grainger
Very entertaining trip to Fitzroy
Very entertaining trip to Fitzroy. The deckhand doing the safety instructions was very entertaining. Boat was on time and smooth trip.

Posted By Melinda Dolling
Fitzroy Flyer
A great day out at Fitzroy Island. Cheerful and helpful crew on the ferry
Posted By Wayne Shanahan
The ferry ride over to Fitzroy Island was good
The ferry ride over to Fitzroy Island was good - we enjoyed it, but the island had uneven terrain, including walking on coral and as we both have mobility issues, this tour was inappropriate for us. Also, the beach had coral, not sand, and was on a steep angle. Even the eating area was not open, so we went back early rather than being in pain for a further three and a half hours. For Fitzroy Island hikes, you need to have the warning that a reasonably high level of fitness is required, in your marketing material.
Posted By Paul Harms
Funny and friendly staff on the boat
I got 2 messenges and 2 emails the day before to remind me of my upcoming trip. Seems a bit much. 1 reminder would have been enough. Funny and friendly staff on the boat.
Posted By Claudia
Great experience
Great experience
Posted By Saba Farhat
Very easy process to book
Very easy process to book the ferry to Fitzroy Island. Supporting emails made it clear how to proceed on the day. We also booked some snorkelling gear and found the whole process very simple. Can definitely recommend Travstar when booking holidays.
Posted By Adrian Mann
Travstar sorted the issue for us
We missed the midday boat. Travstar sorted the issue for us.
Posted By Maria Liza Acabo Callaghan
Mark was very professional and friendly
All staff were great but Mark was very professional and friendly
Posted By Caroline Wallace
The island is beautiful
The island is beautiful. I highly recommend going for the day. So much to see and do...or relax.
Posted By Elizabeth Dunn
Enjoyed the day immensely
Very easy to book and great value foriney. We took our snorkelling gear and enjoyed the day immensely

Posted By Suzanne Smith
Online booking is straight forward
I chose Fitzroy Island Flyer over other operators because their transfer schedules between Cairns and Fitzroy Island suit me best. Online booking is straightforward.
Posted By Dolly Rubiano
Above and beond
Went above and beond
Posted By Richard Moser
The staff and voyage to Fitzroy Island were excellent
The staff and voyage to Fitzroy Island were excellent, making our day on Fitzroy very enjoyable. The staff made sure everyone was safe and as comfortable as possible on the rough seas experienced at the time. The Island is relaxing and great to explore, especially the snorkeling.
Posted By Robyn Reynolds
Got to snorkel with turtles
The trip was great and we got to snorkel with turtles which was amazing. Only issue was the dive shop on the island. We needed stinger suits and it took almost an hour to queue to get them. And we were only on the island from 11 to 2:30 so more than a quarter of our time was spent in a queue. Otherwise a great experience and recommended just make sure to get there earlier and book a later departure!!
Posted By Michael Paine
Loved the trip
Loved the trip, staff were helpful & professional. My only constructive \"critism\" is that the boat was way over crowded. I am sure within the legal limits but unpleasantly crowded for passengers. We were right next to others in the baking sun with no capacity to move into the shade.
Posted By Heather MacCulloch
Appreciate the assistance
I really appreciate the assistance with cancelling our original booking in June and then rebooking in September. It was a very simple process with no loss of money.
Posted By Catherine Roach
We got to see several whales as we approached the island!
A great day trip to Fitzroy. The safety briefing on the boat was almost a comedy show in and of itself. Super bonus points as we got to see several whales as we approached the island! Well worth it
Posted By Richard Laansma
Had a very enjoyable day
Had a very enjoyable day on Fitzroy island.
The boat trip out and back was comfortable.

The only downside is the bedlam in collecting snorkel and fins on the island. We had pre paid but still had to line up with everyone else (who hadn't pre paid), which took about 25 minutes.
Posted By William Hourigan
Great customer service
Great customer service
Posted By Claudia Gueli
Staff were excellent
Staff were excellent. very friendly and helpful and also gave some interesting information about some of the places we passed on the trip.
Posted By Rohan Lund
Great trip and excellent service from Travstar!
Great trip and excellent service from Travstar! Would thoroughly recommend for a great trip!!
Posted By Ian Kelly
The crew on the boat were wonderful!
The crew on the boat were wonderful!
Posted By Talia
It's always a pleasure
It's always a pleasure to travel on the Fitzroy Flyer
Posted By Amanda Benson
Perfect
Perfect
Posted By Steven Price
Nice day on Fitzroy
Enjoyable trip out to Fitzroy Island, particularly because of Aaron.
Posted By Belinda Kejda
FItzroy Ferry
Enjoyed the ride and especially the crew who were very cheerful and helpful.

Posted By Richard Hockett
Flyer
Great ferry ride. Very professional. Safe. Punctual. Highly recommend
Posted By Fiona Macdonald
Nice Journey
Friendly staff, comfortable journey on the Fastcat.
Posted By Lorraine Bayliss
Very happy with overall service provided.
Very happy with overall service provided.
Posted By Lee Nicholson
Highly recommend
My family and I had a great time on Fitzroy Island highly recommend
Posted By Bronwyn Elsley
Relaxing trip
Easy relaxed trip across to Fitzroy Island
Posted By Anita Baker
Enjoyable journey.
The sea was rough but a staff member was so pleasant and entertaining that it was an enjoyable journey.
Posted By Nicholas Gastrell
Nice trip
Nice trip
Posted By Owen Chan
Great Day
Thanks for the good service!
Posted By Hiagi Mario
Fitzroy Island was great
The ferry service to Fitzroy Island was great. Fitzroy Island was very nice.
Posted By David Hoke
We are very pleased
We are very pleased of the helpful and friendly personal!
Posted By Marlene Schubert
Such a beautiful island
A fun way to get away to such a beautiful island we are already planning our return.
Posted By Graham
Lovely day
we had a lovely day
Posted By Lyn Price
Good Food
I would recommend eating at the bar because food is better and cheaper than the restaurant.
I specially liked the fish and burger.
Posted By Akiko Nishiyama
Great Day
On time pleasant crew, boat in good condition, booking service good
Posted By Adele Graham
Would highly recommend.
Trip out to Fitzroy was beautiful. Crew on board was very entertaining especially fellow who gave safety demonstration. Would highly recommend.
Posted By Randy Gaugler
Great value
Great value and friendly staff
Posted By Samantha Green
Excellent
A better waiting area and better signage. The staff were excellent
Posted By Alan Mckoy
Wonderful day!
Wonderful day! Staff was excellent!
Posted By Anita Tarzian
Excellent experience.
A great way to spend the day! The boat crew were first rate and the island was an absolute joy - particularly enjoyed the hike to the Summit. Thanks to all for an excellent experience.
Posted By Mark Martin
Wonderful experience
I have had a wonderful experience traveling out to Fitzroy Island and back. My trip started in Cairns and even if it was a bit windy the tour went very smoothly both ways. All in all a good experience that you must try out yourself.
Posted By John Stougaard
Fitzroy Island was excellent
The trip to Fitzroy Island was excellent, the boat was very clean with very good service.
The crew of the vessel were extremely friendly with a good sense of humor.
The glass bottom boat viewing of the reef was the highlight of the day.
I would definitely do this day trip again or maybe next time stay over on this beautiful island.
Posted By Laurence Luplau
Great Service
Great Service and assistance from Gene. Thank you very much. :)
Posted By Kim Jack
Top team
Top team - bang on time ;) Many thanks

Keep up the good work ...

:)
Posted By Brendan Mclaughlan
Fitzroy island itself is beautiful.
Great day out. Friendly staff, ferry ran like clockwork. Fitzroy island itself is beautiful.
Posted By Todd
Great
Travstar phone booking was so easy and managed to book for our trip leaving the next day no problem. The trip on the Fitzrot Fast Cat was great. Thanks to all the team!
Posted By Louise Alfonsi
Without fault.
Customer service from Natalie while going through the booking process was very high quality and without fault.
Posted By Sian Barnard
Excellent
We enjoyed our stay at Fitzroy very much, but to rate the service and value for money as excellent.
Posted By Jakub
Really enjoyed the trip
Really enjoyed the trip, staff very friendly
Posted By Rexelle Clarke
An interesting, enjoyable day tour.
A sensitively presented experience of how tourism and nature can combine to the advantage of both. An interesting, enjoyable day tour.
Posted By John Doyle
Excellent
Excellent and so too was our stay on the island
Posted By Shaun Smith
Need Help With Your Booking?
Our Cairns Office is open again in 13 hours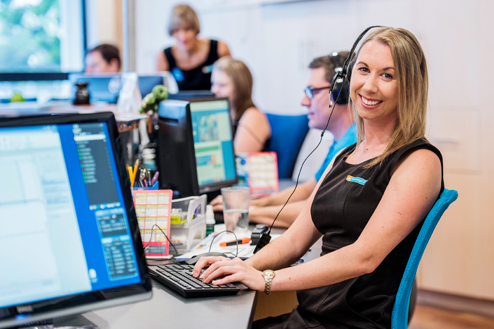 About Travstar Booking Requests
There are some things a computer can't do.
We love helping people plan their holidays and we want to make sure we get it right.
Some holiday packages can be quite complicated with multiple tours and accommodation, pick-up times and extras.
That's why every booking made through a Travstar Website is checked by our local consultants.
It takes a little bit longer to get your tickets but we want to make sure everything is going to run smoothly for you.
How long wil it take to get my tickets?
Our team are alerted to new booking requests as they come in. During office hours you can expect to have your tickets within an hour or two.
After office hours your tickets may take up to 12 hours to arrive.