INSTANT BOOKING OPTIONS
Fitzroy Island Day Tour Info
Sunlover Fitzroy Island Day Trip departs Daily from Cairns Marina. Enjoy over 3 - 6 hours on Fitzroy Island, just a 45 minute cruise from Cairns on the modern Sunlover catamaran.
Spend the day snorkelling the fringing coral reefs, strolling through the National Park rainforest walking tracks, or for the more adventurous hiker, discover breathtaking views of the island and surrounding reefs.
Duration | 3 - 7 Hours
Mobile Ticket OK
Fitzroy Island is surrounded by a beautiful fringing Reef system that forms part of the Great Barrier Reef Marine Park.
The Sunlover Fitzroy Island Day Trip Includes
Modern air-conditioned catamaran transfers
Free morning tea and coffee on boarding
Self-guided rainforest walks
Access to day visitor facilities?
Sunlover Fitzroy Island Ferry Time Table
Departs Cairns Marina at 8:30am, 9:30am, 1:00pm
Departs Fitzroy at 11:30am, 4:00pm, 4:30pm.
Sunlover Fitzroy Island Ferry Return Fares:
Adult $83 (16+ years)
Child $41 (4-15 years)
Family $220 (2 Adults + 2 Children)
Infant Free (0-3 years)
Pre-booking is essential. Please do not turn up to the ferry without a booking.
Pre-Booking Extras
Snorkeling Gear $16
Glass Bottom Boat $16
Fitzroy Island Resort Activity & Hire Pricing
Available on the day. Shop located in the resort
Mask & Snorkel | $10 Adult | Child $5
Fins | $10 Adult | Child $5
30 Minute Glass Bottom Boat Tour | $20 Adult | Child $10
Stinger Suit| $10 Adult | Child $10
Paddle Board | $20 Adult | Child $20
Paddle Ski Kayak | $20 Adult | Child $20
Walking Trails at Fitzroy Island
Fitzroy Island National Park offers some amazing walking opportunities for visitors. Walking is one of the best ways to explore and experience the different rainforest flora and fauna on the Island.
There are five main walking trails in Fitzroy Island National Park that range from 30 minutes to 3 hours, each at varying fitness levels.
Secret Garden Track - 1km return (45 minutes)
The track takes you for a pleasant walk from the western edge of the jetty through tropical rainforest around huge granite boulders. Interpretive signs and a viewing platform overlooking the creek valley provide informative facts on the surrounding rainforest plants and animals.
Nudey Beach track ? 1.2 km return (45 minutes)
A relatively easy walk from the western edge of the jetty through tropical rainforest and coast woodlands leading to the beautiful white coral beach. Nudey Beach is the most popular place for swimming and snorkelling on the Island.
Boulder Lookout - 300m return (30 minutes)
Heading east from the back of the jetty, you will find the boulder lookout trail. This short steep climb through the rainforest with its many steps is also the first section of the summit track. The Boulder lookout offers panoramic views towards Cape Grafton and Cairns. The walk returns along the same track back to the jetty.
Lighthouse Road - 3.6km return (2 hours)
The lighthouse road trail is a very steep concrete road that leads from the north-eastern end of Welcome Bay climbing through rainforest towards the lighthouse. You will come across a lookout during your ascent with offers views of the Northern side of the island on a clear day.
The base of the lighthouse (open when a ranger is on duty), contains an informative display of the maritime history of Fitzroy Island and how the lighthouse was used during the World War II. From the lighthouse you will discover spectacular 360 degree views of Fitzroy Island and the surrounding ocean, which make the difficult walk worth the effort.
Summit Track - 2.6km return to resort (3 hours)
The Summit Track is recommended only for fit walkers as it is very steep. From behind the jetty, the track starts up the boulder lookout trail, and then continues to ascend steeply through open woodland to the summit of the island (269m). Views of the Island, the Coral Sea and the mountain ranges are the perfect spot to relax and take in the scenery. The trail then winds down amongst the boulders to join the lighthouse road.
Cairns to Fitzroy Checkin
Check-in 30 minutes prior to deparure at the Reef Fleet Terminal Sunlover Desk.
Fitzroy to Cairns Checkin
Be ready on the Fitzroy Island jetty 10 minutes prior to deparure.
Guest Reviews
Really love this island
Posted By Gillian Dorein
The staff were friendly
This trip was great So well run, the staff were friendly, helpful, happy and interested in the clients having a great time. I would definitely book again.
Posted By Megan McWilliams
Wonderful day but late heading back to Cairns
We had a wonderful day & our tripnout to Fitzroy Island was great.
We were told the return trip was at 4pm, but it was 4.45pm before the boat arrived so the boat was very late heading back to Cairns & we stood on the pier for 45mins waiting & not sure when the boat was coming to pick us up - but other than that it was great.
Posted By Mandy Jackson
turtle rehabilitation tour
Went out to Fitzroy Island to do the turtle rehabilitation tour. This was very basic and pretty much had a person standing in front of a blue pool with a newly rescued turtle swimming around. We copped an absolute shocker of a day weather wise and the trip out and back in was not for the faint hearted. There were a lot of people being sick. Value for money...no not really. Would I recommend the trip....no not really. Desperately short of toilets on the island. Would be better value to go to the aquarium in Cairns and see the turtles.
Posted By Andrew Parker
Good trip, no problems.
Good trip, no problems.
Posted By Jeffrey FOWLER
Fantastic day out
Fantastic day out, would definitely recommend!
Posted By Tracy Young
Lovely day at Fitzroy Island
Thankyou. Even with the rain we enjoyed a lovely day at Fitzroy Island.
Posted By Tracey Brown
Excellent service by the staff
Excellent service by the staff on a very clean, modern and safe vessel.
Would definitely travel with this company again.
Posted By Wesley Chan
Lovely day
We had a lovely day, no complaints.
Posted By Vanessa King
Jodi was a pleasure to deal with
Jodi was a pleasure to deal with, provided advice on weather conditions on Fitzroy Island which helped us decide on which day to the island.

Highly recommend.
Posted By Linda B
The staff were fun and took great care
My teenagers and I took the boat as far as Fitzroy Island and then back again. It was on time both ways and the staff were fun and took great care to count all the passengers. We were requested to remain in the same seats both directions for covid safe purposes.
Posted By Brigitte Hoffmann
The trip was the best of our 14 day holiday
We saved the best location till last , the trip was the best of our 14 day holiday , we plan to come back and stay at Fitzroy Island. Only wished we had of made this trip on day one.
Posted By Kaz willy
Loved it
Loved it
Posted By Emily Minniti
Great time
Had a great time... aware staff and good supervision...
Posted By Roger Noakes
Very good tour !!
Very good tour !! We enjoyed a beautiful day
Posted By Julio Cazaban
The staff were wonderful
The staff were wonderful. My husband is not a confident swimmer and Vicki took such care of him as she taught him to snorkel. It was cold on that day so we were so thankful for the access to the hot showers after we snorkelled over the beautiful reef. Lunch was wonderful. Loved it! I would recommend a visit to my friends and family.
Posted By Kerry Odonga
Need Help With Your Booking?
Our Cairns Office is open again in 12 hours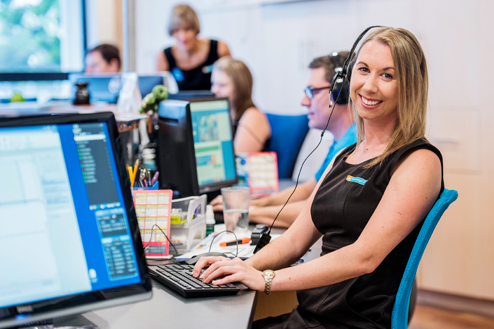 About Travstar Booking Requests
There are some things a computer can't do.
We love helping people plan their holidays and we want to make sure we get it right.
Some holiday packages can be quite complicated with multiple tours and accommodation, pick-up times and extras.
That's why every booking made through a Travstar Website is checked by our local consultants.
It takes a little bit longer to get your tickets but we want to make sure everything is going to run smoothly for you.
How long wil it take to get my tickets?
Our team are alerted to new booking requests as they come in. During office hours you can expect to have your tickets within an hour or two.
After office hours your tickets may take up to 12 hours to arrive.